Design foils and decorative foils are "the face" of a machine, system, or device. They are part of the corporate design and significantly influence the product's sales success. With many years of experience and our technical know-how, we are the ideal partner for your front foils for flat input systems or for using foils as equipment labels for machine or system identification.
Our high-quality front foils, design foils, and decorative foils meet the highest requirements and are suitable for use in industrial environments. RIEBL-Siebdruck front foils exhibit high mechanical and chemical resistance, making them extremely robust and resistant to environmental influences.
The design possibilities for our foils are virtually limitless. Depending on the customer's requirements, the front foils can be manufactured with a fully self-adhesive or partially exposed adhesive layer.
We also offer keyboard foils with embossed keys and/or front foils with display windows or viewing windows as per your needs. Individual printing and free-form shapes are no problem.
RIEBL front foils can be printed with different color systems, making them touch-sensitive as well. Printing is typically done as an underprint, predominantly using screen printing, but also with digital printing. Our front foils are suitable for control units and HMI devices with touch function.
We use only high-quality materials from reputable manufacturers for our front foils, design foils, and decorative foils. Polyester foils are predominantly used, but polycarbonate foils are also employed. For "stronger" displays and front panels, we utilize materials such as glass, acrylic glass, and PMMA.
As a long-standing front foil manufacturer and pioneer in this field, RIEBL-Siebdruck GmbH has acquired extensive knowledge in the area of control foils, input systems, front foils, and screen printing. Therefore, RIEBL-Siebdruck front foils, control foils, and display windows are used across various industries worldwide.
RIEBL-Color-Relief
RIEBL-Color-Struc
Foil on carrier plate
Design foils with special effects
Interchangeable text insertion technique
Adhesive technology
Reinforced display windows
Antimicrobial surfaces
Of course, we also offer complete processing. With our modern laser cutting machines, we shape your foils. We take care of the assembly of assemblies and provide complete solutions. From design to the finished product, Riebl-Siebdruck is the right choice for you.
We manufacture initial samples and small series using hybrid technology, state-of-the-art methods.
Front foil with disappearing effect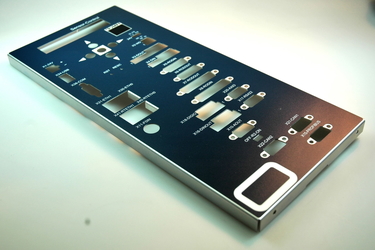 Front foil glued on metal sheet
Feel free to call us or send us an email. We will get back to you as soon as possible.